Kart
GPS Posisjon
60.34652º N, 11.98723º Ø
60° 20′ 47.5″N, 11° 59′ 14.0″Ø

Krønike
Klubb krøniken til Devils Choice Mc Kongsvinger

Four Horsmen Mc
Four Horsemen mc ble dannet av Karl Arne Fjeld ( R.I.P ), Trond Rudseter og Roy Bjørklund. De tre barndomsvennene bestemte seg tidlig på 90 tallet og starte en egen mc klubb i hjembygda
Det er nå Four Horsemen MC starter sin ferd på de norske landeveier og inn i det etablerte mc miljøet. Klubbens fødselsdag er satt til september 1992.
Det tok ikke lang tid før det kom et nytt medlem inn i klubben. Dette var våres alle Sigurd, bedre kjent for dere som Bjørn Aarstad
Roy Bjørklund sluttet etter hvert i klubben og Per Arne Jørgensen ble tatt opp som prøvemedlem. Klubben begynte nå å få et godt fotfeste, og da en nedlagt butikk i området sto til salgs ble denne kjøpt. I årsskiftet 95/96 ble Four Horsemen eiere av eget klubbhus.
Trond Rudseter sluttet i klubben. På samme tid ble Bygda Mc Elverum lagt ned og Inge Bakken ( R.I.P ) ble rekruttert derifra.
Vi vil til slutt skrive noen ord om Karl Arne Fjeld ( R.I.P )Det var han som var med på å starte Four Horsemen Mc og var en pådriver i klubbens første periode. Karl Arne er ikke lenger blant oss med sine artige påfunn og kommentarer. I våre hjerter vil han alltid beholde den rettferdige plass han har fått.
TAKK FOR DET DU STARTET KARL ARNE.
BRØDRE SKAL FRAMFOR ALT PÅ DENNE JORD, FORBLI BRØDRE!
Four Horsemen Mc
Four Horsemen MC was founded by: Karl Arne Fjeld ( R.I.P ), Trond Rudseter & Roy Bjørklund.
In the early 90`s these three childhood friends decided to establish a motorcycleclub in their hometown
Kongsvinger.
This is where Four Horsemen MC starts their journey on the Norwegian highways and further on, in to
the established Norwegian motorcycle family. The MC`s birthday is set to September of 1992.
Soon we got a new member, our very own Sigurd, better known to you as Bjørn Aarstad.
Roy Bjørklund left the club and Per Arne Jørgensen became Prospect.
The MC grew stronger and when an old house that used to be a village grocery store became available
on the market, Four Horsemen MC became proud owners of their very own clubhouse in 95/96.
Now, Trond Rudseter left the club and at the same time they decided to cancel Bygda MC Elverum
and Inge Bakken ( R.I.P ) got recruited to Four Horsemen MC.
We like to end this by saying a few words about Karl Arne Fjeld, one of the original founders of Four Horsemen MC and a true Horsemen. Karl Arne is no longer amonst us in flesh but in our hearts will he always have his rightfull place amongst us no matter what way we choose.
THANK YOU FOR WHAT YOU FOUNDED KARL ARNE!!!
BROTHERS SHALL BEFORE ALL ELSE ON EARTH, STAY BROTHERS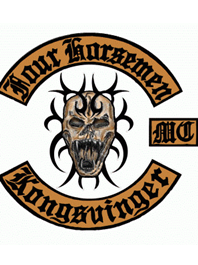 Bilde av gammel color før patch til Devils Choice Mc Norway